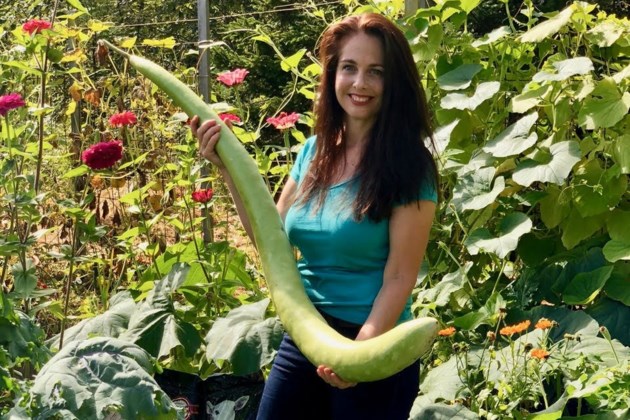 While January doesn't seem like the time for gardeners to get excited, most are buzzing with excitement right now says NEWS 95.7's Weekend Gardener Nikki Jabour.
"This is seed catalogue season and at this point, I think any gardener in your family, they don't want to talk about anything but seeds and what to grow this year," she said.
New varieties of seeds developed every year. Some are more disease resistant, yield higher crops, or are just more vigorous, she explains. It's done through hybridization and cross-breeding, but never through genetically modifications.
While gardeners are getting excited about what to plant this year, Jabour says it's still to early to plant anything outside in the Maritimes.
"I wouldn't sow my first seeds probably until March first," she said.
But for those wanting to do a little gardening this winter, Jabour has some helpful tips:
Don't start too early
"That's not going to do you any favours," said Jabour.
If you do want to sow something now or garden inside, Jabour recommends planting sprouts, shoots or micro-greens.
"These are just baby plants that are super fast to grow; anywhere from two to three days to three weeks for pea shoots. You can grow them in a window sill or under a grow light, and you can have a super nutritious, super easy to grow crop in just a short amount of time," she said.
Micro-greens and pea shoots only need about an inch of potting soil in a shallow container, she says, while something like sprouts grow best in a jar or cannister.
It's a fun project for kids, she says, and a really easy way to add taste and nutrition to any dish. Jabour puts her micro-greens on pasta and salads.
Watch the light
If you're planning on starting seedlings inside, it's best to have a grow light instead of relying on light from a window sill, says Jabour.
"The days are getting longer, but they're not that long. We're not up to ten hours plus of light a day, and generally seedlings want 14 to 16 hours of light to grow well," she said.
Grow lights are easy to find and inexpensive, she says. Typically you can use any sort of shop light from a hardware store. Jabour uses fluorescence tubes in hers, and sets them up above the plants.
If you have house plants, it's important to match them to your light level she says.
"If you have a condo or an apartment or a house and there's not a lot of bright light, you want to make sure you pick low light house plants."
Don't over water
"The easiest way to kill a plant is to give it too much love," she said, comparing love to water.
"Water sparingly and only when necessary," said Jabour.
She recommends only watering plants when the soil is dry. You can easily test this by sticking your finger in the soil, she says.
Jabour also recommends starting small if this is your first year gardening, so as to not get overwhelmed and abandon the hobby before getting to see the benefits.
"There's a lot of benefits mentally as well as nutritionally to growing your own food inside," she said. "Starting these things indoors now just greens up your life and makes you so much more happier."
["source=halifaxtoday"]