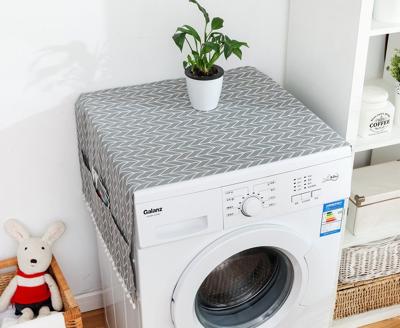 If you've ever gotten up on a ladder to dust your refrigerator, you know just how much grime big appliances can collect. This large appliance dust cover is a stylish solution that makes cleaning your kitchen or laundry room a little bit easier.
How It Works
This large appliance dust cover is made from premium cotton so it's durable and easy to wash. Simply drape it over large appliances like your refrigerator, dryer, or washing machine to keep dust from building up on top. The cover has six pockets on the side that are perfect for storing large utensils, gloves, cleaning products, and more.
Stylish Solution
Keeping the top of your refrigerator from dust isn't easy since it might require pulling your fridge out and getting up on a ladder. This dust cover enables you to pull the cover off and pop it in the washing machine instead. It's not just practical—it's also stylish. The grey and white geometric pattern fits in with any décor style.
Why Customers Love It
Customers loved this dust cover because it made large appliances look better and kept them clean. They loved the durable but soft cotton material. One customer used these dust covers to keep a new washer and dryer from getting scratched and found the side storage pockets the perfect size for dryer sheets.
["source=chippewa"]