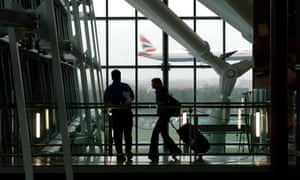 A woman suspected of being a ringleader of a criminal network involved in trafficking young women from Nigeria to Europe for sexual exploitation has been charged with modern slavery offences.
Josephine Iyamu, 50, a British national, was arrested after she landed at Heathrow on a flight from Lagos, Nigeria, on 24 August, the National Crime Agency (NCA) said.
Iyamu, from Bermondsey in London, was charged with arranging to facilitate travel of another person with a view to exploitation – an offence under the Modern Slavery Act – and was remanded in custody. She will appear at Birmingham crown court on 22 September.
Senior investigating officer Kay Mellor said: "Criminals involved in modern slavery see their victims as a commodity that can generate income over and over again. They are adept at hiding their activity and often exploit individuals who are vulnerable and may not be missed.
"The NCA, with our partners, is turning over stones, seeking out the individuals who are profiting from this trade, prosecuting them and safeguarding the vulnerable people they exploit."
A 59-year-old man was also arrested on suspicion of money laundering. He was released and remains under investigation.
Last month, the NCA said modern slavery and human trafficking was far more prevalent than law enforcement previously thought with potentially tens of thousands of victims in the UK.
Will Kerr, the NCA's director of vulnerabilities, said the figures were far higher than those identified by the system set up by the government to identify victims of trafficking, which stood at about 3,800 in 2016.
"It's likely in the tens of thousands," Kerr said. "The more we look for modern slavery the more we find evidence of the widespread abuse of the vulnerable. The growing body of evidence we are collecting points to the scale being far larger than anyone had previously thought."
["Source-timesofindia"]