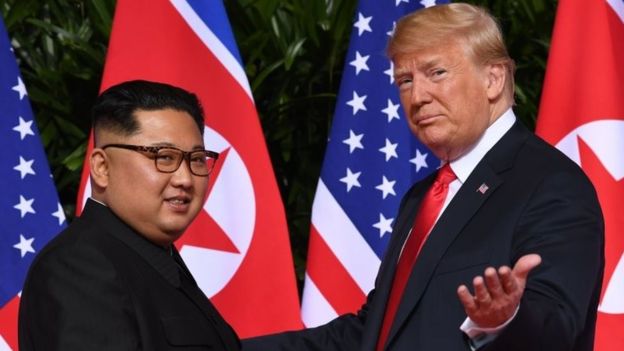 State of the Union: Trump announces second North Korea summit
US President Donald Trump and North Korea's KIm Jong-un are to hold a second summit in three weeks' time. That was the big announcement as Mr Trump gave his annual State of the Union address. The meeting's due to take place in Vietnam.
Mr Trump told Congress that, had he not won the 2016 election, "we would right now, in my opinion, be in a major war with North Korea", but added that "much work needs to be done". So what are the key challenges ahead?
The president also called for political unity at home and vowed once again to build a wall on the US border with Mexico.
The State of the Union address had to be delayed because of the government shutdown caused by the row over financing the project between Mr Trump, a Republican, and the Democrats. Overall, the response from Democrats to the speech was frosty, but they applauded when the president noted the record number of women in Congress. Here's the footage.
BBC North America reporter Anthony Zurcher has five takeaways from Mr Trump's speech. And read the story of a boy called Trump who attended the event after being bullied because of his name.
Brexit: May to meet Northern Ireland parties
Theresa May continues her efforts to resolve the dispute over the future of the Irish border today, when she meets the leaders of Northern Ireland's five main political parties. The talks at Stormont come ahead of the prime minister meeting European Commission President Jean-Claude Juncker on Thursday to try to secure changes to her Brexit deal. The EU has refused to renegotiate the withdrawal agreement it reached with her, including the backstop – an "insurance policy" to avoid the need for physical infrastructure on the border in the event that no UK-EU trade deal is agreed. Try our nice, simple guide to Brexit.
["source=bbc"]