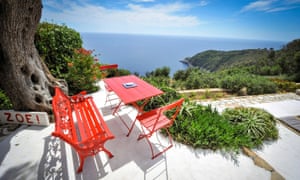 he five of us stretched out on yoga mats with our toes pointing towards the sea. Above us the breeze stirred the leaves of the ancient olive trees. "Eímai edó," intoned Sophie. "In Greek that means, 'I am here.'" She continued in her gentle voice. "I am here in Paxos. I have arrived. I have moored on this rock surrounded by sea …"
Sophie was training to be a mindfulness teacher. When we lay down I'd have bet my favourite Speedos that we'd soon be in fits of laughter, but not one of us so much as sniggered. We lay in still, neat rows, like sardines, as her soothing words washed over us. After a while, Sophie brought us up from the depths. "I hope you are now at one with this island," she said. We'd been on Paxos for less than half a day yet I had the giddy sensation I might just chuck it all in and stay here forever.
That's what happened to Sophie. She has now been here for 30 years, moored in Paxos. "Back then," she said, "there was only one road and just three cars." There don't seem to be many more than that now. Aside from being a mindfulness teacher she is also the owner of Villa Zoe, the house we were staying in. It sits on a cliff overlooking the sea and was built by a captain more than 200 years ago. Today it's all wooden shutters, high ceilings and shady terraces, with plenty of quirky features, like an outdoor kitchen and an open-air shower. Its greatest asset, however, is the astounding view – an immense sweep of sea and sky. I must have spent half our week gazing towards the glittering horizon.
Greece holds a special place in the list of our "favourite family holidays". More than 10 years ago we went there on our first "proper" trip. We rented a house in Lefkada with a cool pool and drove around in a knackered old car. The kids were 12, 10 and five. Every night we dined in a different taverna. With burnt shoulders and washed hair, we'd sit at pretty tables, ordering grown-up food and then, when the children didn't like it, feed it to the stray cats. And here we were again – a decade later, with the kids on the cusp of adulthood and almost off our hands. We'd bookended their childhood with holidays in Greece. Would this be the last time it would be just the five of us? Their boyfriends and girlfriends are waiting in the wings.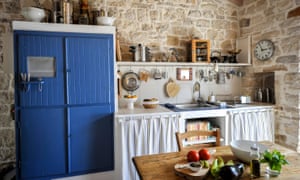 But what a bookend Paxos is. It's a craggy idyll garlanded with the bluest water you've ever seen. After much discussion we decided it was the exact aquamarine shade of Listerine. It's the smallest of the seven Ionian islands, 10km long and 4km wide. You can't fly there, you catch a ferry from Corfu, which takes about an hour. It's this last hop which has preserved Paxos from the excesses of mass tourism and, despite a few flash new villas erupting down its eastern flank, you get a sense that not much has changed in years, probably even decades.
To say the pace is unhurried would be an exaggeration – even a gang of lethargic sloths would get fidgety here. But you soon adapt to the relaxed starts, long lunches and afternoon snoozes. What's the rush, anyway? Other than the dazzling blue sea, the first thing that strikes you about the island are the olive trees. They are everywhere. The Venetians first planted them in the 13th century as a source of lamp oil, and now the trees cover 80% of the island. At the last count there were an estimated 250,000 – that's about 100 trees for every member of the population.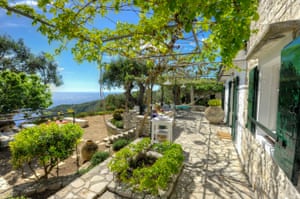 Most people live in one of three small towns. Gaios is the "capital" – a hilarious notion considering you can walk from one side of it to the other in five minutes. It unfurls itself along a natural anchorage with two tiny islands guarding the entrance, each with its own church. We strolled the length of the quay, ogled the posh yachts and ate ice creams (a fantastic peanut-butter flavour for one child and a disastrous lemon and chocolate combo for me). If you are into people watching this is the place to be. My daughter kept telling me to stop staring. The other two towns are Lakka, built around a horseshoe cove on the island's northern tip, and Loggos – the smallest and, everyone agreed, prettiest. All three have quays bustling with traditional tavernas.
The towns are on the sheltered eastern side of the island. Villa Zoe, where we stayed, was on the more rugged west, near a beach called Erimitis. After our mindfulness session, the thing at the front of our minds was to have a first swim. There is little sand on Paxos – most beaches are made up of sun-bleached pebbles and the effect, combined with the milky-blue water, is like swimming in a huge aquarium. We dived into the waves as the sun turned the cathedral-like cliffs of Erimitis a delicate pink. We bobbed about in the clear sea, marvelling that we'd flown out of Gatwick that morning.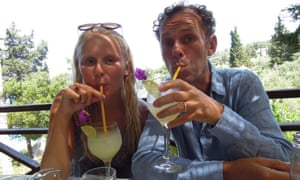 The best way to take in Paxos is to hire your own speedboat. All three town harbours offer boats, which cost from €35 (£30) for the day (plus petrol). It takes about 90 minutes to blast round the island, but you'll definitely want to take all day as there are so many coves, cliffs and beaches to explore. We bought a picnic from the bakery in Loggos, packed sun hats and goggles and headed out. The children took turns at the wheel, carving white wakes across the azure surface. We nudged the boat into a huge cave, scared ourselves by swimming through a dark rocky cleft, and finally anchored in our own cove for lunch. It was a perfect day – despite the fact ice leaked over the spanakopita and we had to dry the soggy spinach pie on the deck before we could eat it.
Also be sure to head to Antipaxos, a smaller and even more idyllic island a mile south of Paxos. It's home to a few sheep, and two of the most beautiful beaches this side of the Caribbean – Vrika and Voutoumi. It's also quite funny to say: "Actually, I'm quite Anti Paxos!"
Everyone you meet on Paxos asks which
[Source"cnbc"]