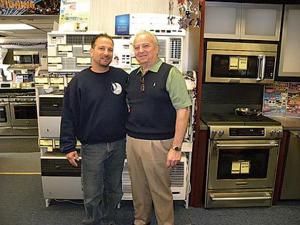 Bob Coccia's Center for Appliances in Bayside is the very definition of a mom-and-pop store. Coccia is proud to keep it that way. He has been in the business long enough that he knows intuitively that giving the customer quality service is his top priority.
That's why in 46 years his store has grown to 3,000 square feet.
"As an independent mom-and-pop type store, I feel like I can give the best service in our store," Coccia said. "We're capable of taking care of the customer in the proper and speedy manner."
And his clients are pretty happy with his approach.
"Mama Mia!" customer Lindsey Harris of Flushing said on the store's website, bobcocciasappliance.com. "Bob treated my family and me like we were real family … he comes through with great prices, dependable delivery and a great personal touch … Bob, you are one in a million! Thank you! — Lindsey."
Coccia's employees, which include his son, Bob Jr., don't work on commission, so no particular brand is forced down the throat of an unassuming consumer. Instead he and his employees sell the knowledge of the appliance a customer needs. And they charge less for top-of-the-line products than their larger competitors. Just some of the big names whose products Coccia's carries are GE, Bosch, Electrolux, KitchenAid and Whirlpool.
"You go to the large stores, you're not dealing with expert help," he said. "I know the good products, I know the bad products and I try to give the customer the best product at the lowest cost."
Coccia has been in the appliance business his whole life. He started off with his father repairing appliances for dealers and manufacturers. He then moved on to selling "scratch and dent" appliances, those that have slight cosmetic damage but are in fine working condition, and are sold at lower rates.
He moved up from selling "scratch and dent" to new products after joining the Intercounty Appliance Corp., a buying cooperative in the northeast, which he said allows him to sell better products but at the same low cost.
"I felt I was giving the customer a better product at the same cost factor as scratch and dent," he said. "It was a big difference."
Coccia's specialty is selling appliances as a package for one price. If a customer is remodeling a kitchen, for example, items such as a microwave, refrigerator and stove will be sold together. That allows for lower prices and gets the buyer rebates.
If kitchen appliances aren't what you're looking for, Coccia's also has many other products including air conditioners, barbecues and high-definition televisions."
Having so much experience in the business and attending two important trade shows a year, Coccia is always on top of new and improved products. When changes are made to existing products, it's always an improvement, he said. And no one can fill the customer in better than he can.
If something is not in stock at the store, Coccia can always order it from his warehouse in Long Island. And when someone is unsure about what to buy, Coccia is always there to help.
"I don't plan on retiring very soon. I'm not going anywhere," he joked.
The store is located at 215-03 Horace Harding Blvd. and can be reached at (718) 224-4344. Hours are 9 a.m.-6 p.m. Monday-Saturday, Sunday 11 a.m.-5 p.m.