You don't need to be a data scientist to know that holiday sales are great opportunities for bargain shoppers—but to understand precisely when you can snag the best deals, a little bit of big data goes a long way.
That's why Consumer Reports teamed up with Gap Intelligence, a market research company that specializes in pricing information, to study a year's worth of product prices from key retailers. We examined four big-ticket product categories—ranges, dishwashers, refrigerators, and televisions—to help you navigate the sales between Labor Day and the end of the holiday season.
The steep discounts that occur around Black Friday demonstrate the magnitude of price fluctuation that exists during the course of a year. By November, the average price of a refrigerator, for instance, dropped almost $250 off the peak pricing we found in May. For the average price of a range, we found a $178 differential—or a 14 percent discount—between the high point in February and the low point in November.
Sometimes the big-picture data can hide some counterintuitive buying advice. Average TV prices peak as new products launch starting at the end of February, but that's also one of the best times to get a great deal on the previous year's hot sets.
MORE ON HOW TO SHOP SMARTER
Save on Appliances, Sale or No Sale
The Best Dishwashers for $600 to $900
Guide to Cord-Cutting and Streaming Services
How to Cut Kitchen Remodeling Costs
Things got particularly interesting when we zoomed in on several high-performing models from our ratings. We found significant price fluctuation on certain models; others—especially at extreme low and high prices—barely budged.
So how can past pricing inform your purchasing decisions this fall? If you're in the market for one of these products now (as in, your fridge is on the fritz), the data show that keeping an eye on a model's price over a matter of weeks could save you hundreds of dollars.
In terms of 2017 sales events, Gap expects to see similar trends, especially when it comes to Black Friday. "That promotional period continues to get longer and longer," says Christine Edwards, Gap's senior market analyst for home appliances. On Black Friday, entry-level appliances might see a dramatic dip as retailers advertise these offers to entice people through the door.
But if you're shopping for a midlevel or premium appliance, there's no need to wait until the day after Thanksgiving. "The retail industry is now referring to November as 'Black November,' " explains Debra Mednick, CR's director of market trends and analysis. As 2016's data confirm, if you're after a new kitchen suite or television—and you can hold off—it pays to wait out Labor Day sales and shop come November.

To calculate the average price in the product categories below and track the price of specific models, we teamed up with Gap Intelligence, a market-data company that tracks pricing and promotional activity for in-store and online products selling in key national, regional, and online-exclusive retailers on a weekly basis. (For each category, we excluded extreme outliers, eliminating TVs costing more than $8,000 and ranges and refrigerators more than $10,000.)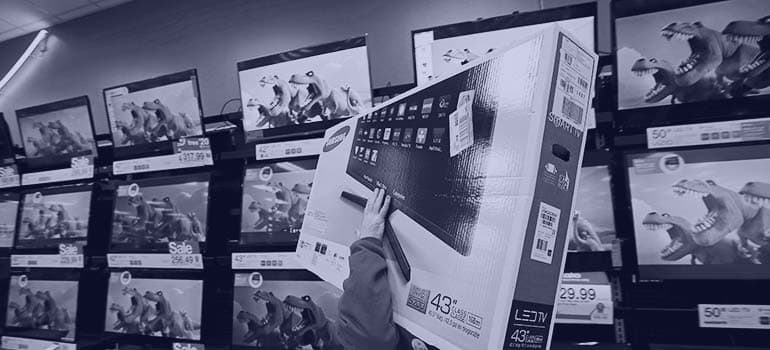 TVs
"Most TV models are replaced or refreshed every year, and their pricing tends to follow a fairly consistent 12-month curve," says Deirdre Kennedy, senior analyst for TVs at Gap Intelligence.
Our examination of the average price of a TV, as well as our study of four recommended 2016 models, shows that after new television models were introduced from early March to late May, prices began an immediate and steady decline. When Black Friday promotions began in November, prices dove across the board. We found many sets selling for as little as 50 percent of their original retail price.
Our analysis found another window for snaring a great deal starting a few weeks before the Super Bowl and running through March. During that time, average TV prices rose as new models entered the market, but prices on the preceding year's TVs hit their low point as retailers worked to clear out old inventory and create shelf space for new arrivals.
Below, we compared the average price of a TV over the course of 2016 to four select models from our television ratings:
• Samsung UN65KS8500 TV
• LG 60UH8500 TV
• Samsung UN55KS8000 TV
• LG 49UH6100 TV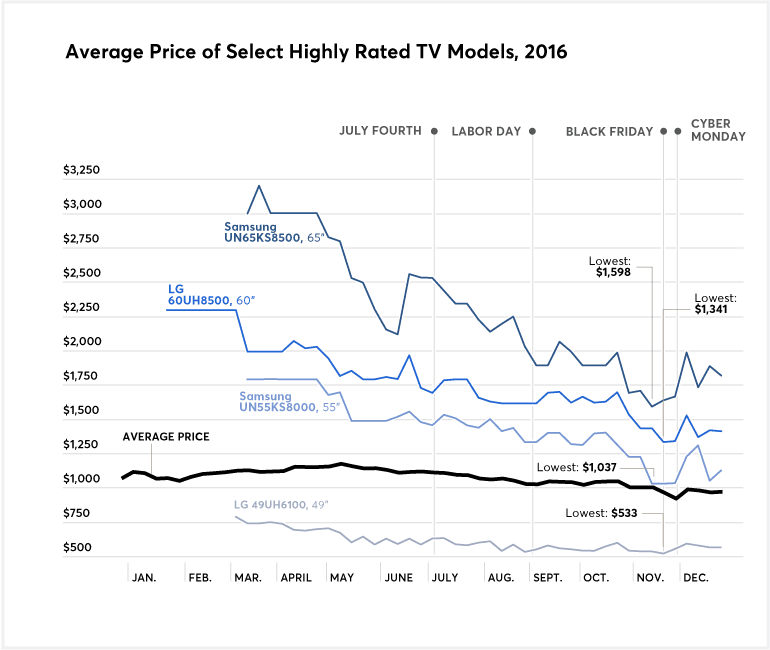 [Source"cnbc"]