George Benjamin's pair of concerts with Ensemble Modern, presented under the auspices of the Wigmore Hall, were split between the hall itself and the Roundhouse. Both featured Benjamin's own music. In the first, there were also works by Cathy Milliken, Christian Mason and Luigi Dallapiccola, while at the Roundhouse, the ensemble took on orchestral proportions for Boulez, Messiaen, Ustvolskaya and Ligeti.
Both were reminders of how exhilarating Ensemble Modern's performances can be, and how this Frankfurt-based group remains peerless among today's new-music specialists. As an oboist, Milliken was one of its founder members, and in Bright Ring, receiving its UK premiere, she exploits the peculiar intensity it brings to every performance in slowly evolving sound masses, punctuated by glittering, gleaming outbursts and equally abrupt collapses into nothingness. The trajectory of Mason's four-year-old piece, Layers of Love, was less clear – how it reaches its final explosion of dance rhythms wasn't obvious – though the slippery microtones at the opening are certainly striking.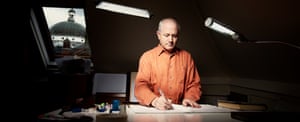 Unexpectedly, the Boulez piece in the Roundhouse concert was a bit of a novelty, too – a five-minute fanfare, Initiale, from 1987 that sometimes sounds more like Malcolm Arnold than anything by one of the 20th century's greatest iconoclasts. The Roundhouse isn't the best venue for music of textural complexity, and the balance in Messiaen's Sept Haïkaï, with Ueli Wiget as the solo pianist, wasn't always convincing. There were no such problems in Ustvolskaya's elemental Composition No 2 Dies Irae; with its pounding piano and double basses interspersed with the terrifying sounds of a coffin-shaped wooden box struck with mallets, it seems like an exercise in musical self-flagellation.
Benjamin had selected two of his own greatest achievements from the beginning of the 21st century for these programmes, The "lyric tale" Into the Little Hill, a retelling of the Pied Piper story, remains as spellbinding now as it was at its premiere in Paris in 2006, perhaps sounding edgier and more painfully urgent than ever up close at the Wigmore. Ensemble Modern gave that premiere and so did the soprano Anu Komsi, who was joined this time by impressive contralto Helena Rasker, to convey this story with all its contemporary resonances, while the overwhelming orchestral Palimpsests, composed just four years earlier, reveals how Benjamin armed himself expressively for that first foray into music theatre.
We made a choice…
… and we want to tell you about it. We made a choice which means our journalism now reaches record numbers around the world and more than a million people have supported our reporting. We continue to face financial challenges but, unlike many news organisations, we have chosen not to put up a paywall. We want our journalism to remain accessible to all, regardless of where they live or what they can afford.
This is The Guardian's model for open, independent journalism: available for everyone, funded by our readers. We depend on contributions from our readers. Will you support our choice?
Readers' support powers our work, safeguarding our essential editorial independence. This means the responsibility of protecting independent journalism is shared, enabling us all to feel empowered to bring about real change in the world. Your support gives Guardian journalists the time, space and freedom to report with tenacity and rigour, to shed light where others won't. It emboldens us to challenge authority and question the status quo. And by keeping all of our journalism free and open to all, we can foster inclusivity, diversity, make space for debate, inspire conversation – so more people have access to accurate information with integrity at its heart.
Guardian journalism is rooted in facts with a progressive perspective on the world. We are editorially independent, meaning we set our own agenda. Our journalism is free from commercial bias and not influenced by billionaire owners, politicians or shareholders. No one steers our opinion. At a time when there are so few sources of information you can really trust, this is vital as it enables us to give a voice to those less heard, challenge the powerful and hold them to account. Your support means we can keep investigating and exploring the critical issues of our time.
Our model allows people to support us in a way that works for them. Every time a reader like you makes a contribution to The Guardian, no matter how big or small, it goes directly into funding our journalism. But we need to build on this support for the years ahead.
["source=theguardian"]