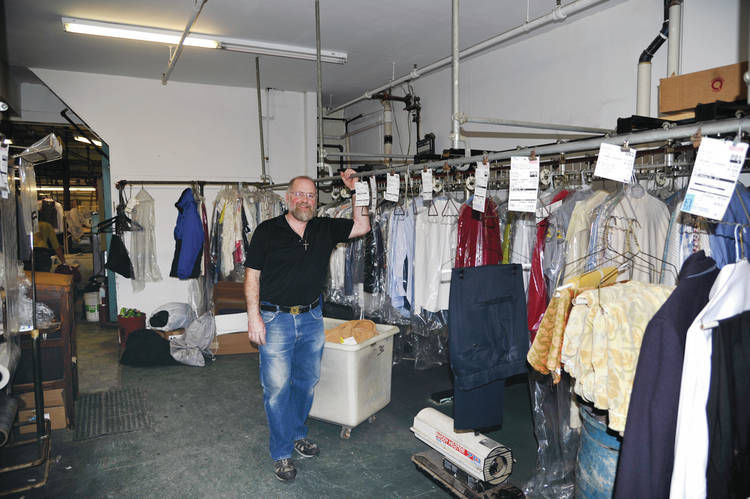 ST. JOHNSBURY — The cleaning machines continue on Eastern Avenue as Palmer Brothers Dry Cleaning & Laundry reaches its 105th year at the same downtown location.
Located at 179 Eastern Ave., the business in a 6,500-square-foot facility, is in the sixth year being owned and operated by Frank Rothe.
The full-service dry cleaning and laundry business that serves both sides of the river and grew through three generations of Palmers was purchased Nov. 1, 2012, by Rothe. The business was started in 1913 by Cecil Palmer.
Rothe bought the business from Charlie Palmer, a third-generation Palmer who, after graduating from UVM in the 1970s, inherited it from his father, Cy, who had taken it over from his father, Cecil.
Rothe employs five people in the pressing, cleaning, spotting and steaming business.
He said equipment upgrades in recent years have made for processing that is faster, better and more energy efficient.
Also, Rothe said the company utilized "green" cleaning for a more environmentally-friendly process.
They maintain several contracts with government agencies, to include the Vermont State Police and the Department of Corrections.
Palmer Bros. runs a delivery vehicle throughout the region, extending to Montpelier, Fairlee, West Stewartstown, N.H. and Bretton Woods, N.H. Palmer Bros. also has a pick-up site at Sew Much More in Littleton, N.H.
In the few years Rothe has owned the century-plus-old business, he most appreciates his customers and his employees. What he least appreciates: the utility costs of running his business.
Business hours for the dry cleaning shop are 7 a.m. to 5 p.m. on weekdays and 9 a.m. to noon on Saturday. There are no Sunday hours.
Rothe said he is happy to maintain a business in downtown St. Johnsbury that has endured for so long.
"It's nice to be able to carry on a tradition," he said. "People mention [the longevity of the business]. They're glad we are able to keep it going."
He said there aren't many dry cleaning businesses left. He said textiles have changed to make the professional process less necessary and "business dress has changed."
"You're not wearing a suit coat like your predecessors did," Rothe said, referring to this reporter as an example of how attire in the business environment has become less formal.
Source;-.caledonianrecord.