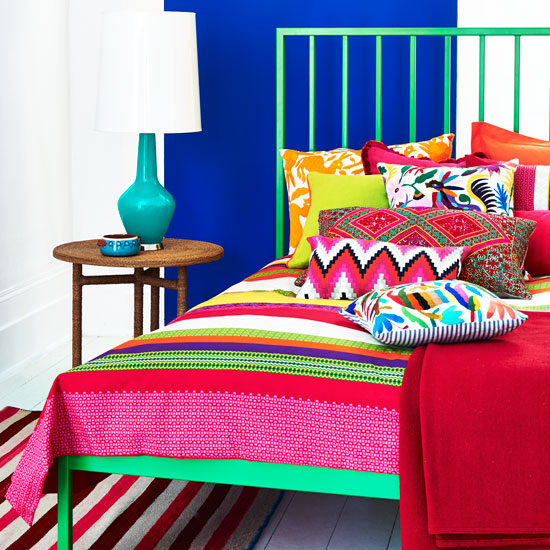 Transform your bedroom with brilliant bedroom paint ideas. Choosing colour is the fun part of decorating, but it can also be the trickiest. We've taken the guesswork out of the process with our selection of the best bedroom paint ideas to guide and inspire you.
Probably the easiest and most cost-effective way to make a big impact in a room. Paint offers you almost endless options when it comes to giving your space a brand new look. From bold brights to barely there neutrals, accent walls to stripes, do some planning and seek out inspiration before you wield your brush.
Perplexed about which colour to paint your bedroom? When choosing a colour look to the colour wheel for inspiration. The colour wheel explains how colours relate to each other, whether they are side by side or diametrically opposite. Each of the twelve segments represents a colour. Those on the left are warm, those on the right are cool.
Be mindful about the mood that you wish to create and how much natural light there is. Is the room north- or south-facing, and do you want it to feel cosy or soothing? Flat paint finishes such a matt emulsion are less reflective than those with a sheen, such as silk or eggshell, and so the colour will look stronger and truer.
Don't stop at walls when thinking about adding colour with paint. Woodwork, bed frames, skirting boards, architraves and door frames can look extremely effective when painted in a contrasting shade to the walls.
Bedroom with carnival-themed paint palette (above)
Look to the colour wheel to fashion a vibrant bedroom that is bursting with bold colour, flamboyance and frivolity. Choose a palette of primary and secondary colours to create the ultimate contrast. Look for uplifting shades that make you feel good. Experiment with strong, fun hues that make you smile every time you walk into the room.
[Source: Housetohome]